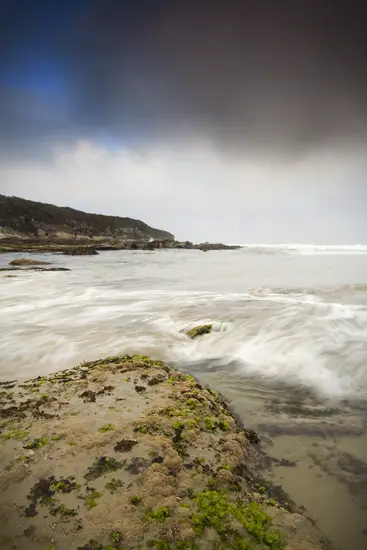 The South Coast track is located around 2~ hours away from Hobart, Tasmania. Being renowned for its wild and rugged waterscapes, it really is a photographers paradise. Depending how far you may go, a day-walk is roughly 4 hours return which is quite a pleasant flat walk.
After a intense few weeks studying hard for uni exams, I was pretty keen to take some shots and one spot on my to do list is South East Cape. Without going into too much boring detail the walk was around 4 hours to the rivulet which was a nice camping spot and a source of drinking water, more details are available at the bottom of the page. It was originally planned before leaving that the weather would be warm and fine which would mean nice sunsets and sunrises come the end of the day. However upon arriving, clouds slowly covered the sky and rain soon settled in. This was a little frustrating, as for photographs this created a few issues which include a dull sky, cleaning rain off my camera and also having to plan to take photos during the next day when we were leaving. Usually I'm not big on taking waterscape shots during the day, I find the colours and light which can be captured are much better during the period of sunset or sunrise.
But that didn't stop me from taking some shots along the way..
This first shot was taken near the rivulet along the walk which was nearby to our camping spot. The rain was coming down quite heavy so I was constantly cleaning droplets off my filters which was a pain. This shot was captured at 4″ / F22 with a .6 and .9 filters. I like to compose my waterscape shots with rock foreground so generally I look for something with a bit of interest for the viewer, in this case some green seaweed scattered on the rocks. Behind from where I was taking the photos, there was much more beautiful rocks scattered around but the water wasn't reaching the rocks so I moved forwards. I find waiting for the water to rush over the rocks provides the shot with more depth and is much more interesting for the viewer.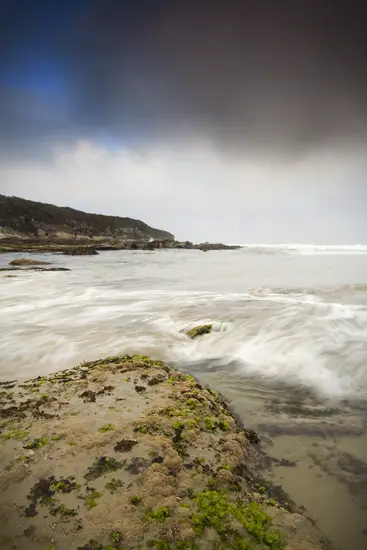 This photogarph was taken at lion rock as we were leaving on our way home at around 11am. The sun was starting to come out strong which really limited exposure times for the water. This shot used a .9 and .6 ND grad filter and was shot at 0.3″ seconds. Preferbly I would of liked to be around the 1-2 second mark but it didn't permit.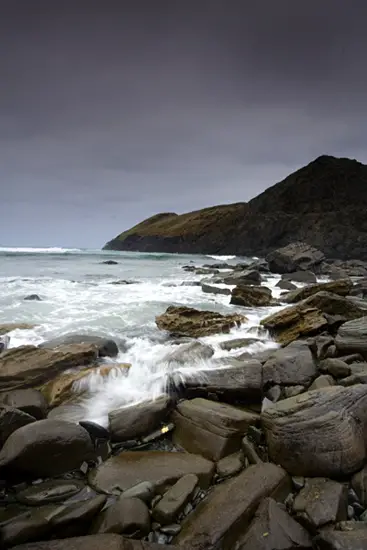 The sun came out quite strong as we were leaving Lion Rock which made it very difficult to get the shots I was after.I find the light is too harsh which creates strong shadows and highlights. For something different infrared was used which creates a much different look to the image then normal. I wish my knowledge was more extended on IR, really I don't know much at all. My filter of choice for IR is the Hoya R72 which more information can be had at Hoya. Infared is quite interesting so I will post up some more of my shots later in how exactly I shoot the image, set the white balance and compose. But for now, this shot was composed and required a 25″ exposure at F9.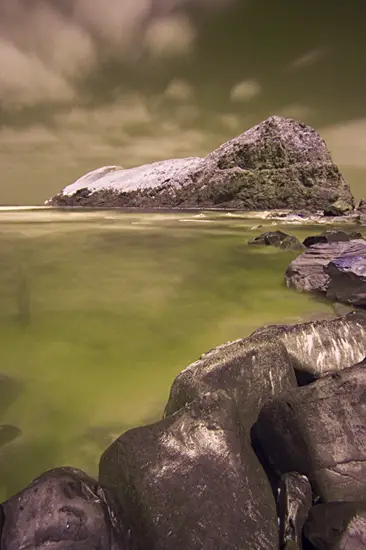 For details on the track or national park please see