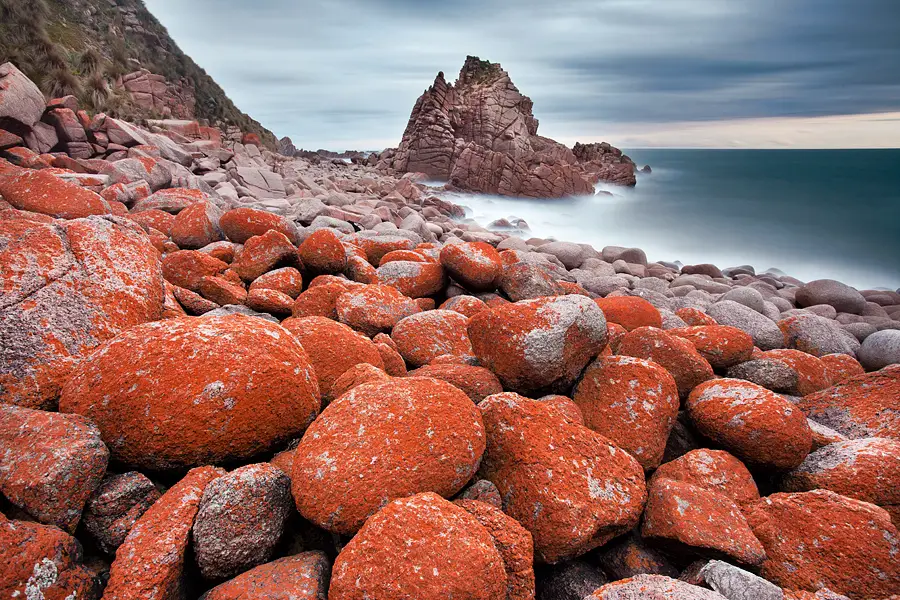 A photo taken a couple of months ago at Cape Woolamai, Victoria. I've been sitting on this for a while, slightly unhappy with the processing and not completely sold by the composition. After 4 processing attempts later, here it is.
Technical Details

This is a 3 minute exposure captured at F11. with a Canon 5D Mark II, Canon 17-40, remote and Manfrotto tripod.
For this shot I used the magic cloth technique (more on this in a future post). But in short, it's a technique where you place a cloth over the top half of the frame during long exposures to act as a graduated neutral density filter. I used this technique for the first time as my filters and been packed away and were slightly dirty from sea spray. Surprisingly it worked quite well.
Post Processing
This photograph consists of two exposures with one for the sky and another for the rest of the image.

Blending exposures is helpful when you don't nail the initial in-camera exposure. Fortunately I captured two images with one quite over exposed and suited well for the rocks as part of the foreground and another under exposed which captured the sky perfectly. Rather than attempt to use either the over or under exposed image, I combined the two elements from both shots to maximise dynamic range. Confused? You can see two images to the side which demonstrate which parts from the over exposed image were combined with the under exposed shot. I find gradually painting the over exposed with a low opacity allows for the blend to be more seamless and less obvious to the viewer which in my opinion, is the most important thing.