Before we begin, this is by no means a technical review of the QNAP TS-453 Pro and more a usability review based on my experiences with the device. If you are looking for technical reviews that undertake benchmarking and a thorough review of the virtualisation capabilities of the unit, I would recommend visiting Tom's Hardware and Hexus which both get into juicy tech detail of this unit.  Instead, this is a short review based on my experience as a regular user of using the unit using the NAS for my
Earlier Backup Process
Prior to purchasing a NAS, my backup workflow 'worked' but I had low confidence in it all after some failures in the past. The process included two off-site backups and two on-sites, consisting of the following:
Primary processing and storage unit (desktop PC) (2TB)
Secondary backups occurring every 24 hours to an on-site Ubuntu machine (1TB)
Third backup held at work in a secure location backed up monthly using encryption (2TB)
Fourth backup held interstate in a secure location backed up sporadically using encryption (2TB)
This workflow worked for a few years until my photography storage requirements started to creep on the 1TB level, exceeding the space capacity of my secondary backup location, the Ubuntu mini-itx machine I had stored in a cupboard.
I won't bore you with the details but I had two options: Replace the hard drive in the Ubuntu machine (cheap and easy) or alternatively, looking at purchasing a NAS.  Ultimately, I made the decision to purchase a NAS not just for its ability to act as photography storage solution but for other purposes like media streaming and downloading (more on this later).
 Deciding on a NAS
I'd loosely followed Synology, Drobo and QNAP over the years but hadn't realised how far some had come in terms of combining strong processing power and memory with relatively low power usage. For me, purchases of a significant nature like a NAS come with much procrastination to ensure it will last a long time. This ultimately led me down the path of looking at the QNAP TS-453 Pro, Synology DS415+ and the Synology DS415Play.
Initially I was all set to purchase the Synology range after hearing great reviews from colleagues and online regarding the 'application store'. I must admit, it's very impressive and casted some doubt over the QNAP range.  While the device's primary use was to act as storage for my photography, I also wanted to utilise it for Plex, a media streaming application that comes available for both the QNAP and Synology devices.  After reading Plex's compatibility matrix with NAS devices, it quickly became apparent that the Synology devices would struggle on high definition content due to the Atom based processors. This quickly put the QNAP back into contention with it's 2.0GHz Celeron processor and HDMI port against the Synology DS415+.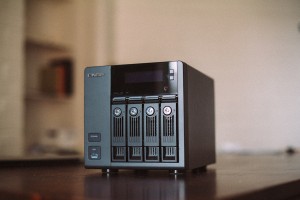 How the devices stacked up
Looking quickly at the specifications of the devices, the DS415 Play is clearly a step behind the QNAP and DS415+ when it comes to processing power and memory. In addition to the difference in processing power and memory, the DS415 Play's hardware media transcoding ability is constrained to the native Synology multimedia application (see DS415 Play product page). This means the CPU transcoding will not be utilised if you are planning to use Plex or another 3rd party app for your media streaming then you're best to look elsewhere.  With this in mind, my list was down to the DS415+ and the QNAP.
Based on the small difference in price, better processor of the Celeron over the Atom and HDMI slot, I decided to go against the grain of my colleagues who all own Synology's and purchase the following:
My bank balance weeped and at the time I was tempted to purchase additional ram (bumping it up to 8GB). Instead I wanted to try the device first and actually see if my requirements justify the additional ram. I'm glad I waited as I rarely see the device go over 45%~ memory usage. I'd imagine using the machine for virtualisation would start to see it peak up higher but for my needs (and probably yours) the standard 2GB that comes with the base device is sufficient.
First Impressions of a QNAP NAS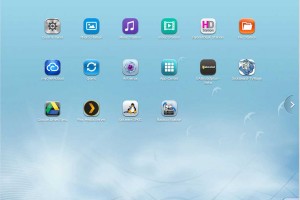 One thing pulling me towards the Synology was its highly reviewed and polished interface which I wasn't sure I'd get with a QNAP device. How wrong I was with setting up and configuring the QNAP a breeze. Installation of the hard drives, initialisation of the devices and installation of applications from the QNAP app store was super user friendly with plenty of instructions available. The time from unboxing the unit to having it staged with the hard drives initialised and some applications loaded took roughly 45 minutes. Not long at all. Most of that time was spent waiting for the RAID array to configure and new firmware updates to install.
With the device setup, ongoing management of the device occurs by connecting to the device via your web browser where from this screen you can install new applications, manage existing applications, change settings, run backups and much more. The screenshots to the right gives you an idea of how the interface looks from when you first login to the device. For the moment my QNAP interface is quite bare with only the essential applications I use installed on the device. The home screen interface allows you to quickly start applications, provides an overview of the current performance of the NAS (I'm yet to see it go over 50%). The machine is placed in a cabinet (with suitable ventilation) near my TV and it's quiet as a mouse even when the TV is powered down.
The QNAP Control Panel interface is well designed and more importantly, works. If you don't want to manage your device through a web browser, QNAP also provides a very limited desktop software which allows you to perform basic administrative tasks on your NAS. However your best bet will be to use the web interface which as stated is intuitive, functional and quick in its operation.
All in all, I've been really impressed by the QNAP in regards to its build quality, software operating system and supporting applications. Possibly with previous QNAP's attempt to gain market share from Synology there was a clear difference but based on my experience, that difference is small with QNAP delivering a polished and easy to use device that caters for everyone.
Why you Should Consider a NAS?
Backups are easy with the option to easily replicate to the cloud
When it comes to backups, there are plenty of options available to you in how your data is backed up,the frequency of backups and what is done with the data when it is backed up.
For my photography backups, I use the QNAP Netbak software which comes free with the unit and allows you to run scheduled backups (waking up the device if powered down) or manual backups when required. In addition to this, I also use the NAS to backup my Macbook using Time Machine for non photography related data. This is easy to setup and works well.
Long term I will look to replicate my data to the cloud for additional peace of mind. Whether this be backed up to Amazon Glacier, Dropbox, Google Drive, Crash Plan or the next big thing, QNAP supports all major cloud providers which is reassuring. Personally speaking, I'm a big fan of backing up to the cloud (assuming you aren't treating it as your main source of back ups of course) but attempting to transfer 900~gb over an ADSL connection would take forever. Perhaps once NBN (Australia's much delayed fibre to the home) becomes available is when this will become part of my work flow. If the NBN ever comes…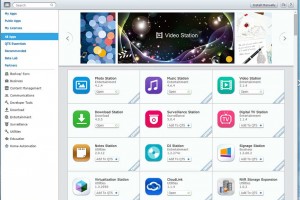 Growing app store
Before purchasing a NAS, the one thing really pulling me towards purchasing a Synology NAS was its app store. I'd heard how great it was from colleagues and online reviews which slightly deterred me from looking at other companies like the QNAP. One weekend I decided to have a look at QNAP's offerings and was pleasantly surprised how far they had come since the last time I had given them a look a year or two before. Clearly QNAP were trying to close the gap in the consumer/soho market and this was clearly evident with their polished application store. My only issue with the application store is that there are so many applications there that I will never touch.
Install and host a WordPress blog? No problem
Host your own private cloud? No problem
Run a virtual machine of a different operating system? No problem
Capture security camera footage and allow for you to view it where ever you are in the world? No problem
The list is endless and will keep anyone who likes to tinker busy for a while.
Media Streaming and Transcoding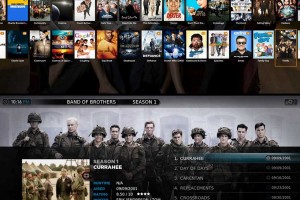 One of the key drivers for me wanting a NAS was to use the media streaming and transcoding to feed my TV and portable units around the home. The QNAP comes well equipped with this capability with the popular media playback software Plex available. For anyone that 'consumes' media, Plex is a great application for organising your media by organising it and downloading all the relevant metadata and media for your tv shows or movies. This then gives you a great looking interface like the screenshot to the right.
For those not sold on Plex, the QNAP has various other offerings available including its inbuilt Kodi media application (formerly known as XBMC) which is also provides similar functionality.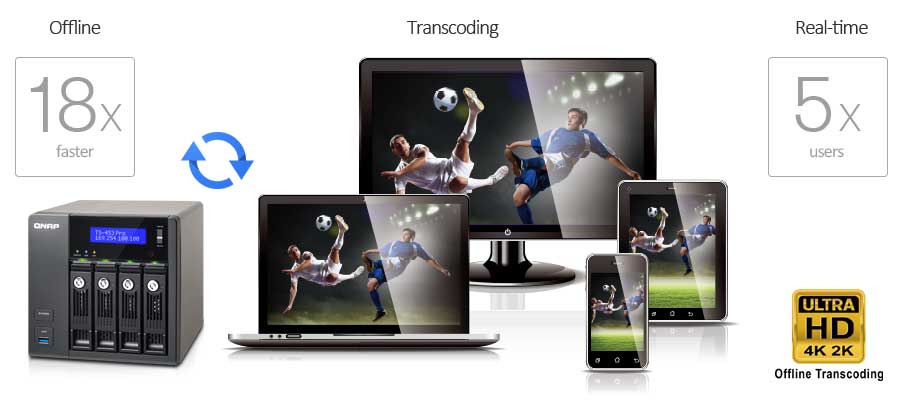 Another plus about the QNAP is its transcoding capabilities where some other devices struggle. Maybe you're laying in bed with your tablet and want to watch an episode or movie that you've downloaded? The QNAP will transcode the video in real time without lag to your device. It surprisingly works really well and I've had no issues.
Downloading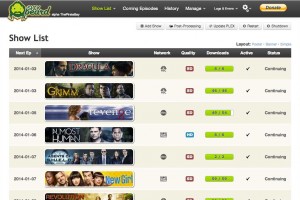 With all this talk of media streaming, it has to come from somewhere right? I won't go too far into the detail here other than to suggest if you do decide to purchase a NAS in the near future, I'd recommend researching Sickbeard and Couch Potato. Both applications allow you to streamline and automate your TV and movie downloading. There's a lot of detail out there on how to set this up so you shouldn't have any issues trying to find more information 😉
Things to Consider when Purchasing a NAS
Backup
Just to be clear and slightly pedantic – While great for storage, purchasing a NAS and utilising RAID should not become your one and only location for your photography backups. In reality, hard drives fail, natural disasters like flooding (my unit was only flooded last year..!) or who knows, your house could be robbed.
Instead, purchasing a NAS should become part of a more broader backup plan to ensure you have multiple points of backups in the case of any failure/loss. In my case, the NAS replaced the ubuntu machine referred to earlier while I have retained my backup drives (I'm currently looking at adding another to the pool).
Redundancy
Depending on what RAID system you select, this will inevitably result in losing some disk space due to redundancy (PCMag have a great write up on RAID and how it works on their blog). In my case where I was intending on using RAID5 with 4 x 3 TB drives (12 TB), the end result after setting up RAID5 was 9TB available which creates a fault tolerance for one drive. For example, if one of my drives fail, I can replace it without any data loss. If two fail at the same time well, you will probably hearing me shrieking from Melbourne 😉
Limitations in Usability
If you have romantic visions already of hosting your RAW images on your NAS and editing them from your desktop then perhaps re-visit that idea. This can be possible via gigabit ethernet however attempting to do so over wifi is out of the picture. Generally this process is slow and I'd encourage you to use the NAS as an archive/mirror of images you directly edit on your computer.
Conclusion
My use of the QNAP TS-453 Pro has been nothing short of excellent with not a hiccup expeirenced in the 6 months of owning it. The device runs quietly and is constantly being updated with new firmware releases and the availability of new applications. It might sound corny but I sleep better at night knowing the QNAP is included in my backup workflow.
The one real gotcha with a NAS and I'm happy to call this out – they're not cheap. But when you consider how much you have no doubt paid on your camera equipment and the value of photos you have taken (can you even put a dollar value on personal memories?) the financial blow of purchasing a NAS becomes easier to digest when the various features and benefits it can bring. I purchased one and as you can tell – love it. Do the same and you won't regret it.
If you have any questions, be sure to leave a comment and I'd be happy to answer.
Thanks,
– Alex