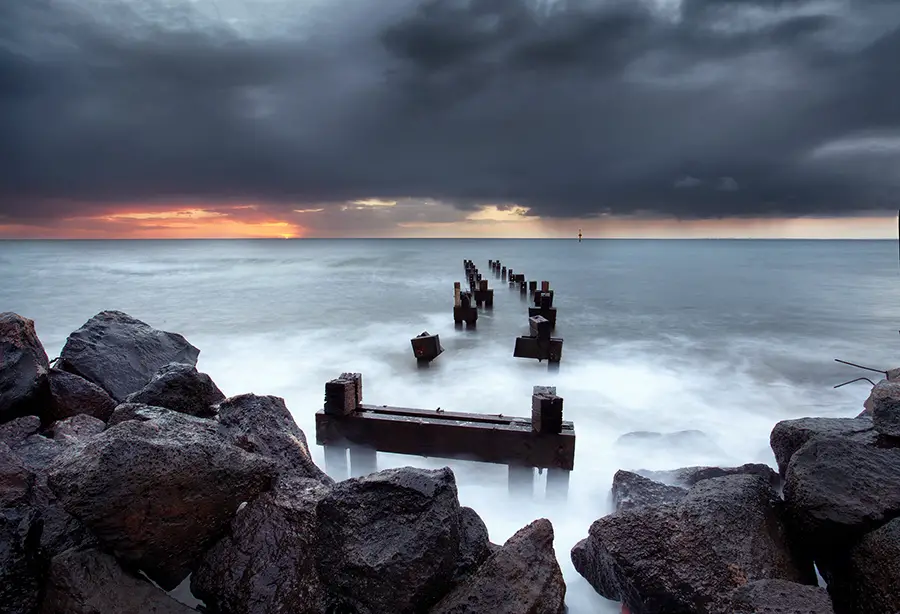 What rocks your boat? For me it's old jetties. They are a dying breed that are slowly taken away and either replaced with a concrete (admittedly much safer) monstrosity or removed all together. Part of me dies every time one goes. Okay. Probably not quite that dramatic as I have picked up a splinter or two from my beloved old jetties.  A right of passage if you may.
One of the more popular older jetties close to Melbourne is the Oliver's Hill jetty in Frankston. It's a mecca for every Tom, Dick and Harry to hone in his or her long exposure skills. I remember when I first shot it around in 2013 I was a little taken back that there were 3-4 other photographers there. Something that felt foreign after never coming across a sole when photographing in Hobart.
Driving past the jetty a few weekends ago I noticed that it was slowly getting taken down and replaced with a new concrete jetty. I went back later that evening just before sunset while there was a break in the weather. Like the first time I photographed it, there were around 6-8 photographers that slowly arrived as the sun slowly set. For the most part everyone was happy to make small talk. I had to laugh, there is always one or two that take things too seriously (chest pumping about gear, battling people for positions, etc). Chill – it's just a sunset. Enjoy the moment and don't take life too seriously…
Oliver's Hill from around the same location – 3 years apart.