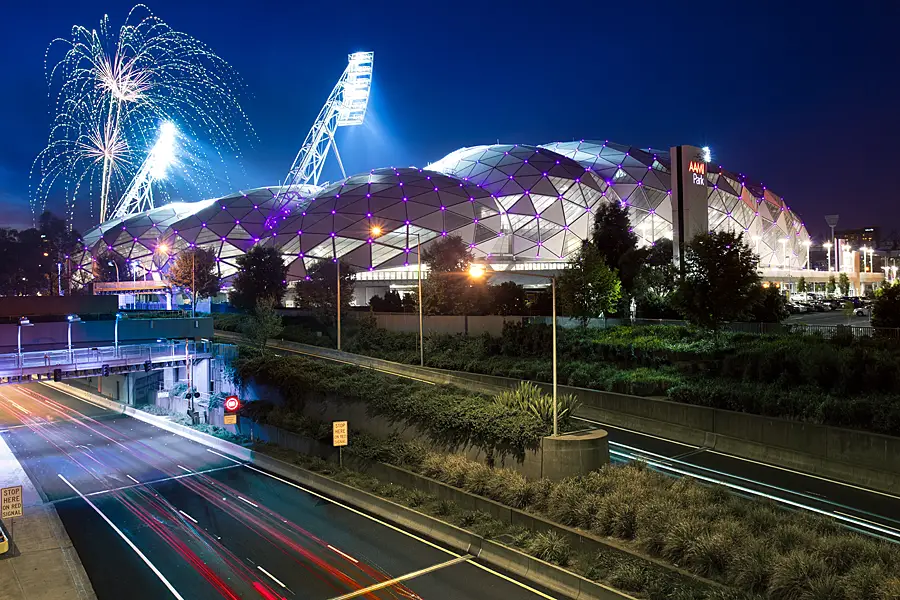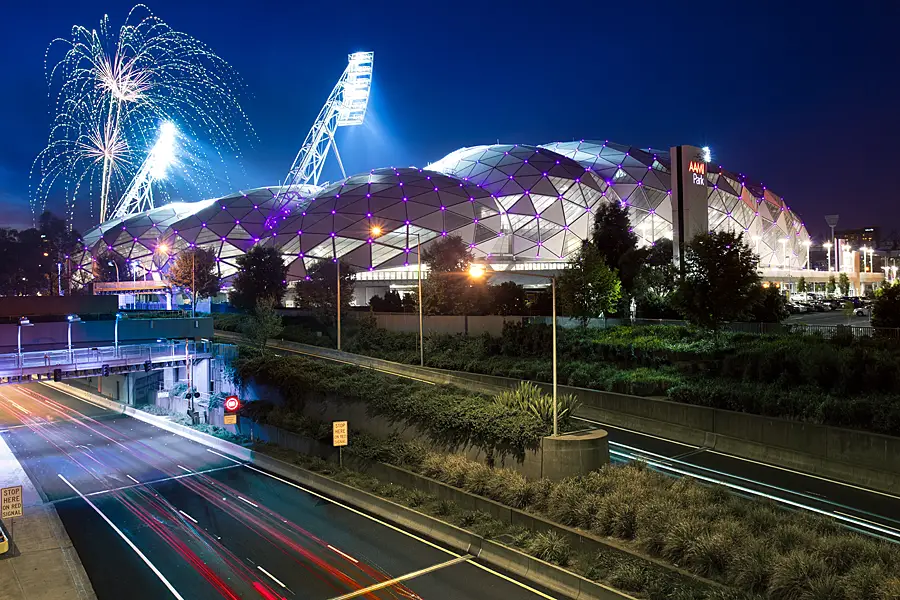 Aami Park all lit up for the Storm vs. Rabbitohs game as captured an hour or so ago. I've been waiting to take this photo for sometime now, stalking the location on my run, checking the Aami Park fixture frequently waiting for a game and hoping to time the weather conditions so it's a clear blue night. Melbourne being Melbourne (read – temperamental) I'd lined up a few days in the past but the sunsets would always end up overcast.
Luckily tonight was the night but it wasn't intended to be so from the start. I was sitting at home watching tv and noticed it was a clear sunset and thought there might be a game on so made a quick last minute dash to my camera gear and started walking towards the city. Unfortunately I missed the beautiful red sunset but made it just in time for 'blue hour'.This occurs after sunset and as you might guess, leaves a beautiful blue in the sky. This is my favourite time to take photos of 'cityscapes' as the soft blue provides a nice backdrop for the lit buildings. I took some more photos after the 'blue hour' was over but the sky was now black and dull and it was now time to pack up the gear and walk home in a sea of Storm and Rabbitoh fans.
I still wouldn't have a clue who the Storm or Rabbitohs are but one team was clearly better than the other and I was spoiled with a constant sky of fireworks.
Photograph details – 20 second exposure at f.13 as captured with a Canon 5D Mark II, Canon 17-40 and tripod. No filters were used for this photograph. In case you're interested I've also included a Adobe Lightroom Before and After which shows the image straight ouf of the camera next to the finished processed photo as you see above. Sorry about the size (1.71 mb).