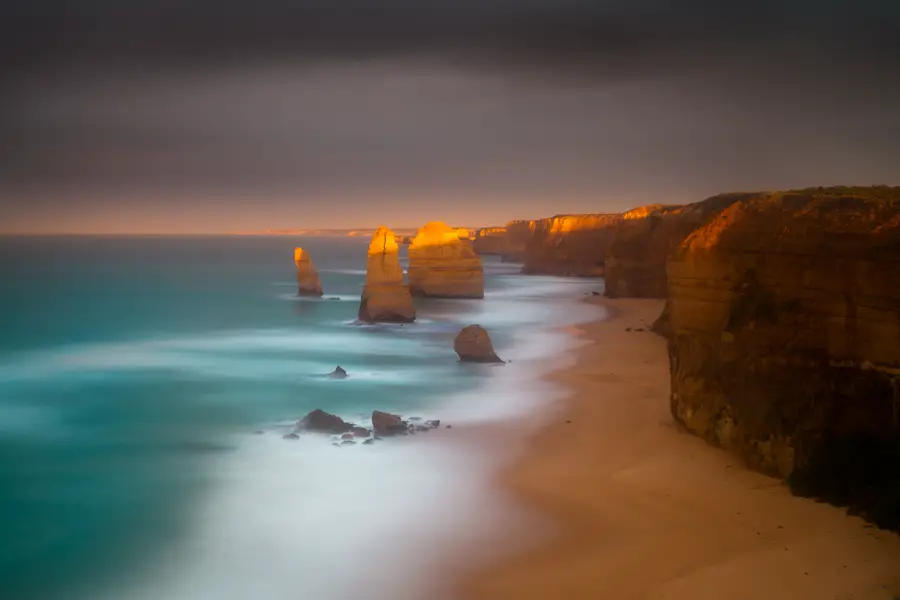 A Weekend Down the Great Ocean Road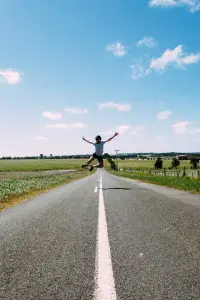 Ever since moving to Melbourne in 2011, I've never been overly interested in photographing the Great Ocean Road. Sure, I was interested in visiting it as a tourist but photographing it was low on the list of things to do.  For me, my interest in photography has changed since I first got into it from a strong focus on wanting to get 'that shot' to something that is more about the adventure and fun in getting out and just enjoying getting out there. Recently I was in Hobart for a week after my unit flooded after an upstairs neighbour's water mains burst. While I was down for a few days I finally got around to shooting the illusive Secret Falls and to catch up with Ben Wilkinson (Wilkography) for some photos. Even though the weather gods had different ideas for us on the day, it was great just to get out there and enjoy exploring new locations.
Jonathan Sander has been on my back for a while now wanting to get down to Port Campbell for a few days to shoot the 12 Apostles, Gibson's Steps and every other cliche location down there 😉 We had an interesting chat the weeks leading up to it with how I feel about shooting locations that are generally over-shot. Sure, I have shot some 'over-shot locations' like Cape Schanck, Cape Woolamai, Mt. Field National Park and others but whenever I visit these locations I try to block out what others have done by not researching the location excessively and trying to look at it with fresh eyes when I get there. For locations like the 12 Apostles, I just found it impossible to approach it with fresh eyes as it is plastered everywhere and hard to ignore. Jon's take on locations that are over shot is that they are over shot for a reason. Whether that be because they are natural phenomena like the 12 Apostles or architecturally iconic like the Flinders Street Station. For that reason, I decided it was time to finally make a trip down to the 12 Apostles and see what all the fuss was about and of course it lived up to the hype.
[box type="info" style="rounded"]Be sure to check out photographs from my Great Ocean Road Part 1 Series[/box]
Gibson Steps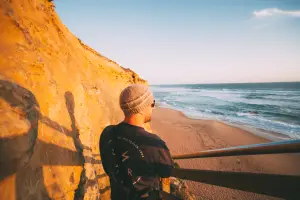 The weekend started with an early finish from work with the plan to hopefully make sunset around Collac way. Luckily we were making good time and decided to ditch stopping in Collac and  keep driving in the hope of making Gibson Steps for some photos on sunset. It was a mad dash but we got there just as the golden hour light was hitting the scene. Perfect timing. We quickly made a mad superman style dress change from our work clothes into something more appropriate and dashed down to the beach without a sole in sight.
Luckily there wasn't much cloud on the horizon which lit the lone apostle up with some stunning golden hour light. I didn't shoot much on the evening and spent most of the time just taking in the area. The shot below was taken just as the sun was about to sneak behind the horizon and is a 1.6 second exposure at f/7.1 with an ISO speed of 100. For this shot I used my Canon 5D Mark II, Canon 17-40 and a .9 Cokin Z-Pro graduated neutral density filter to add a subtle graduation to the sky.
We eventually ended up at Port Campbell and quickly tried to find somewhere to eat and enjoy a beer before everywhere closed.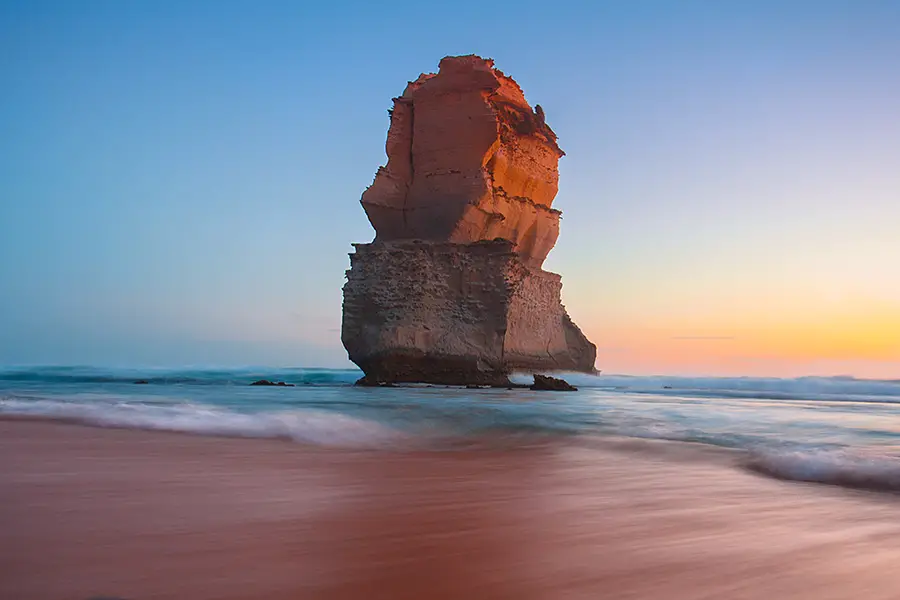 Sunrise at the 12 Apostles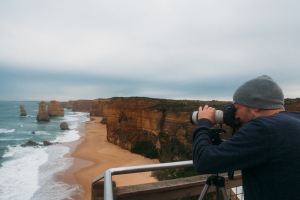 What would a trip be down to the Great Ocean Road without a stop to the 12 Apostles? We decided to get it out of the way on the first morning and woke up early to make our way along to the 12 Apostles. Surprisingly there were a few tourists already around ready to watch the sunrise light up the 12 Apostles. It was quite an interesting morning with quite a bit of cloud around so unfortunately the Apostles only lit up for a short moment before the light was quickly lost in the heavy cloud.
With that out of the way we decided to head back to Port Campbell and explore more around that part of the Great Ocean Road. It was funny driving back past the 12 Apostles later and seeing the crowds (oh and did I mention the selfy poles?!). With that said, it was great to get down there early to avoid the crowds and have it semi to ourselves. Any later and it just looked ugly both photographically and the sheer amount of people flowing in and out.
This was a couple of my favourite photos from the morning with a photo of the pre dawn colour and another with the apostles briefly lighting up before the sun got lost in the clouds.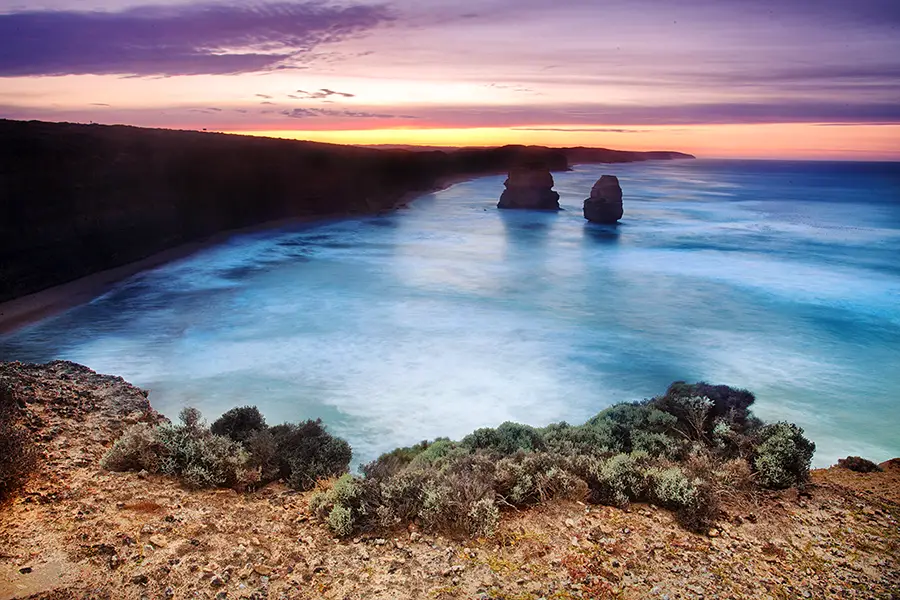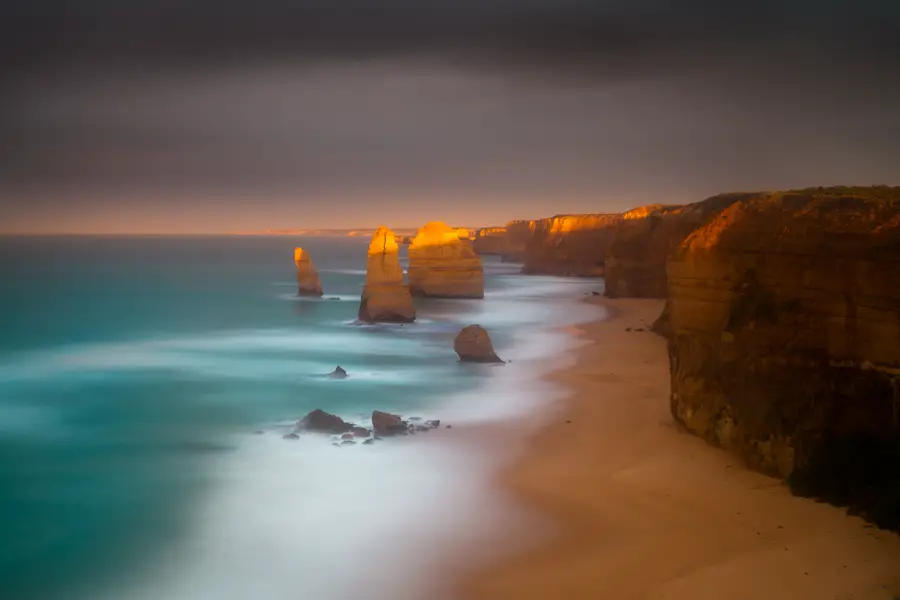 Further North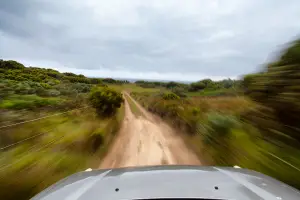 One thing we were both keen to do while down the Great Ocean Road is spend the day exploring around the lesser known locations just to see what would work to get a feel what might work on a big swell and other types of conditions.  For the most part, it was completely unsuccessful but you have to be in it to win it right?
Eventually we made our way past Peterborough while a friend spent a few hours surfing in the golden hour light. It was nice to escape the business of the other parts of the Great Ocean Road and just spend a few hours kicking back by the cliffs enjoying a beer or two while watching others catch some waves as we waited for the golden hour and sunset to come through.
If only every Saturday afternoon was that relaxing. Sign me up. As we sat there waiting for the golden hour light to come through it didn't disappoint but unfortunately there wasn't much in the way of colour in the sky but nevertheless a few shots were taken.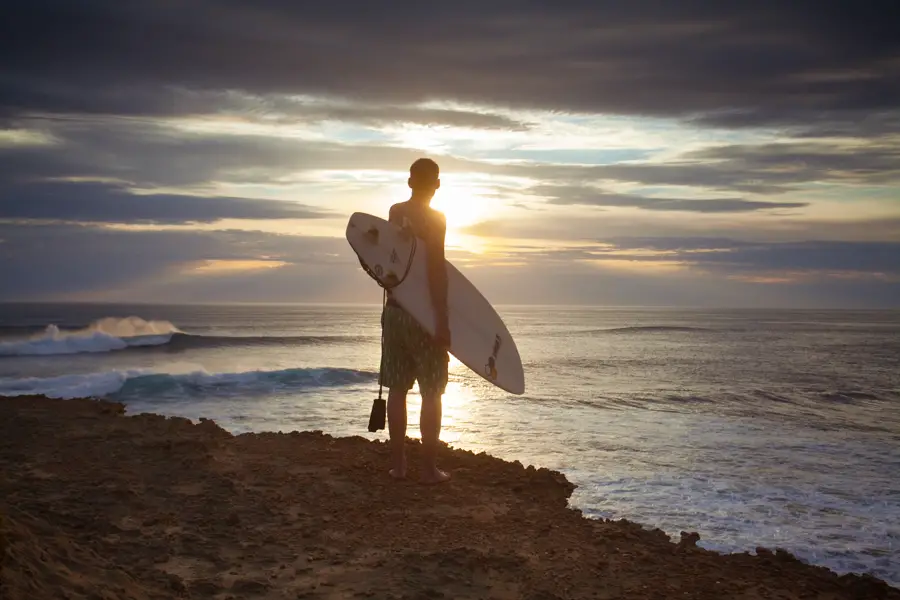 As the golden hour light started to fade and not light the clouds up with much colour, I opted for a self portrait at the end of the cliff edge where we had spent the sunset enjoying a beer or two. The photograph was captured with my usual set up of a Canon 5D Mark II, Canon 17-40 and tripod. Due to the limited light available I was able to capture a 5 second long exposure, just long enough to blur the water movement and capture the aggression in the clouds. Normally I would push for a longer exposure but as there wasn't much wind around to push the clouds around I opted for the shorter exposure that was just enough to capture the blur of the waves breaking.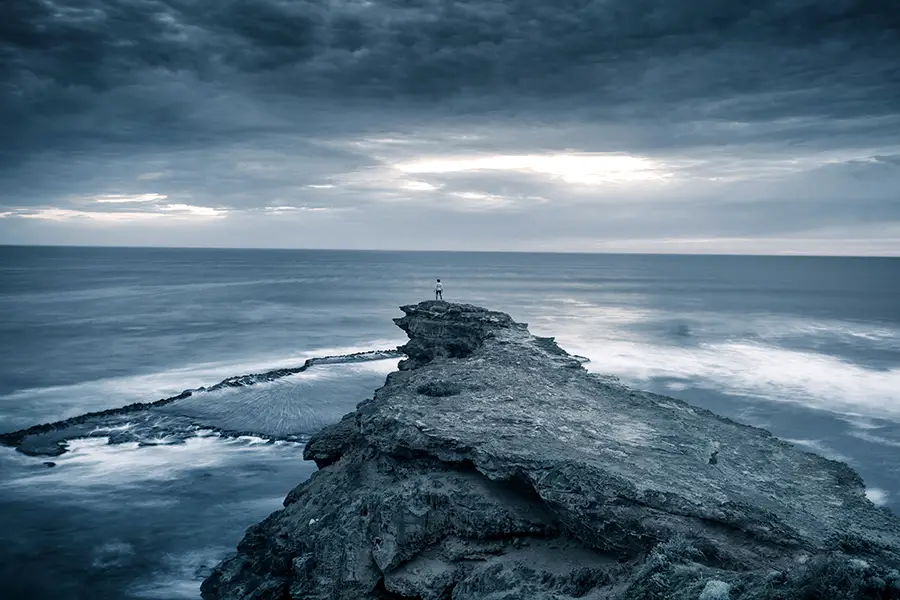 Bay of Martyrs and Lochard Gorge
For all of the Great Ocean Road, one part that I enjoyed the most was the Bay of Martyrs. Situated past the 12 Apostles, the Bay of Martyrs is a stunning area filled with many ailing islands set out to sea. We got out of bed early for a sunrise at Bay of Martyrs which would end up being our last sunrise down while in the area. Unfortunately it was overcast and no colour in the sky at all but the conditions lent themselves perfectly for the scene. Here are a couple of my favourite photos taken from the Bay of Martyrs.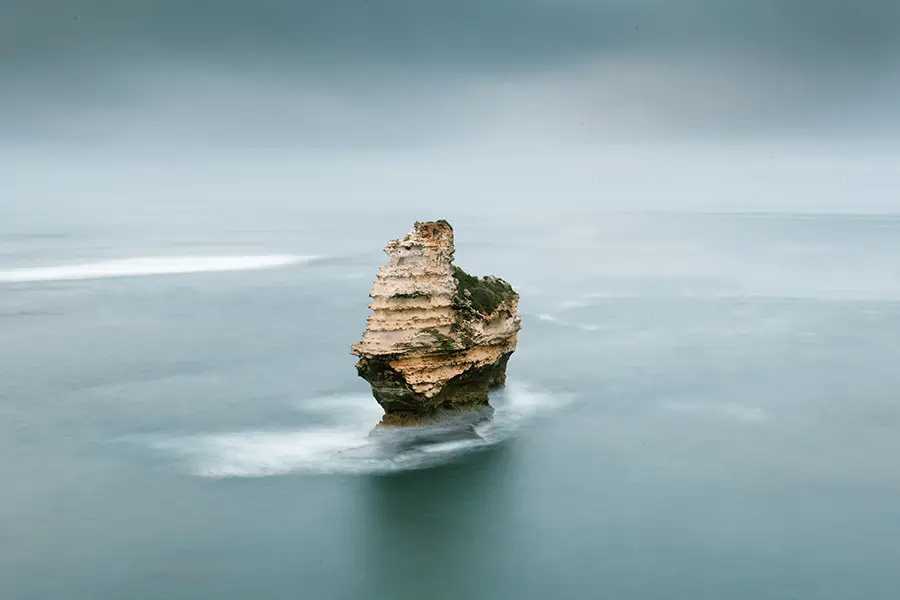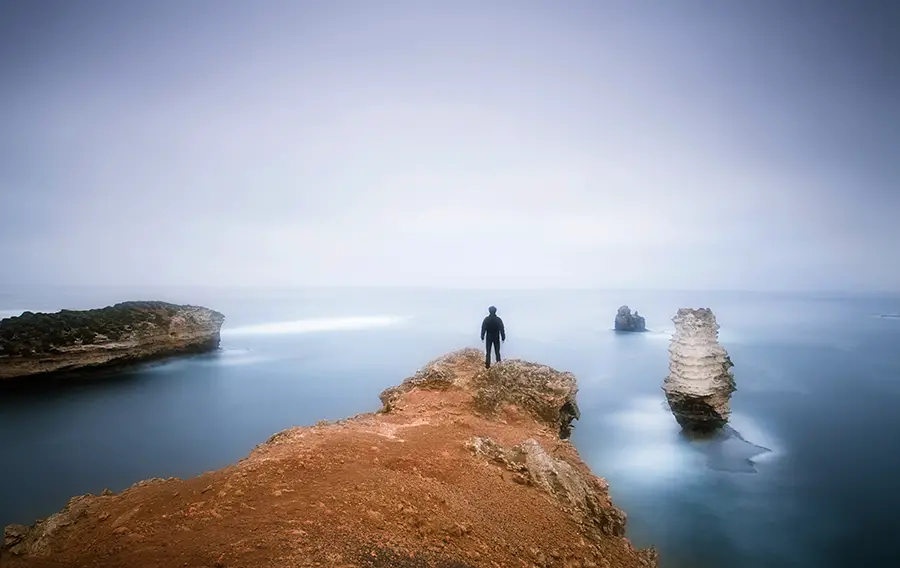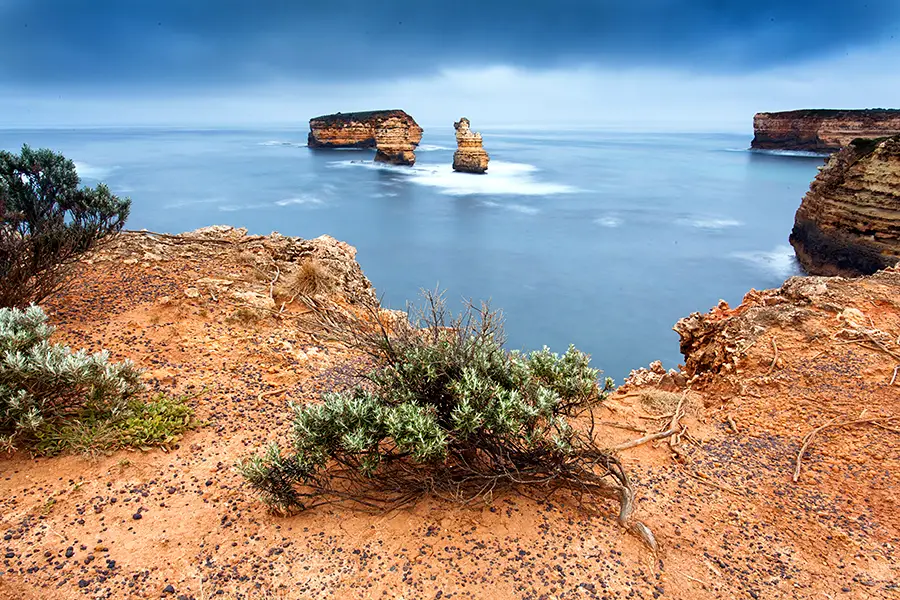 Unfortunately the overcast weather was here to stay with the hard showers coming down throughout the day. We decided to take a chance and visit Lochard Gorge for some photos around sunset but the cloud had very much settled in for the night and didn't leave much in the way of great light or colour for photos. Nevertheless, this branch from a tree made a fun little composition as the outgoing tides tried to pull it out to sea.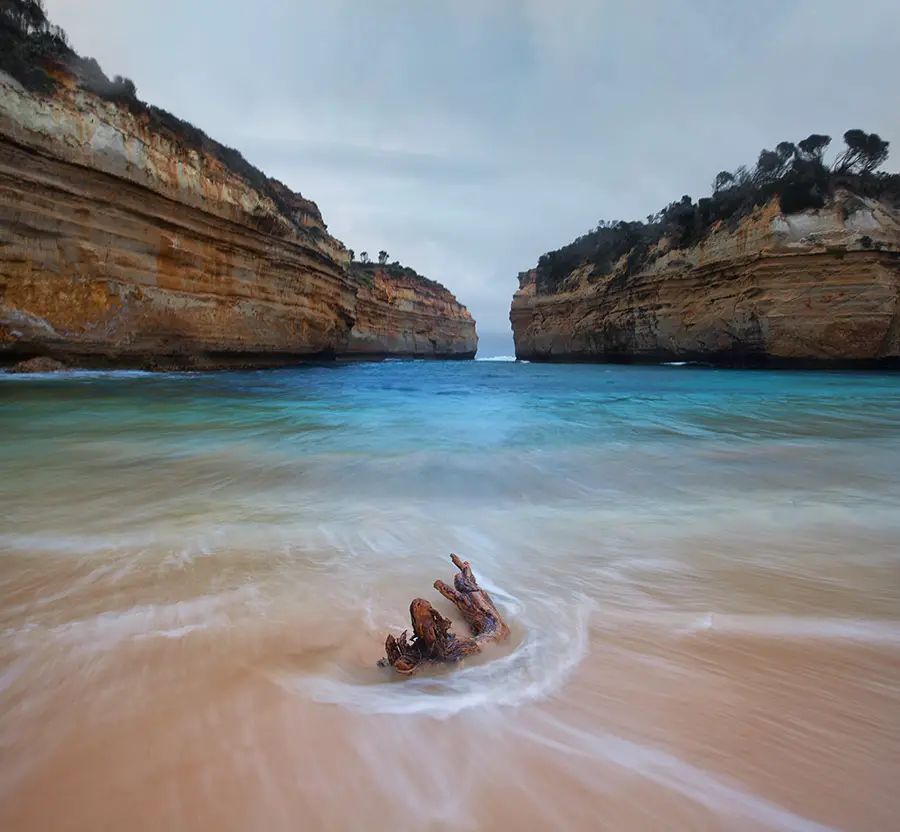 Apollo Bay and the Great Otways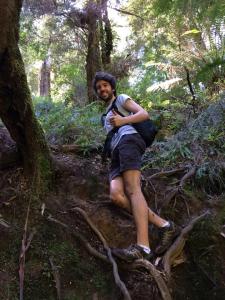 One thing that I really love about the Great Ocean Road is the Great Otways National Park. We spent a solid 4 days photographing seascapes but on our way back were able to jump inland and be surrounded by stunning forest and waterfalls. It's for this reason that I feel that the Great Ocean Road definitely lives up to the hype especially for photographers. The diversity in seascape locations and the ability to head inland and shoot stunning forests and waterfalls is what makes it worth the trip.
These last few photos are taken at Hopetoun Falls (be sure to see others from my first Great Ocean Road post where there was a bit more water flowing) and to cap it off, a beautiful red sunset taken at Apollo Bay. We were extremely lucky to get such beautiful light on our last night and it made the trip a great one.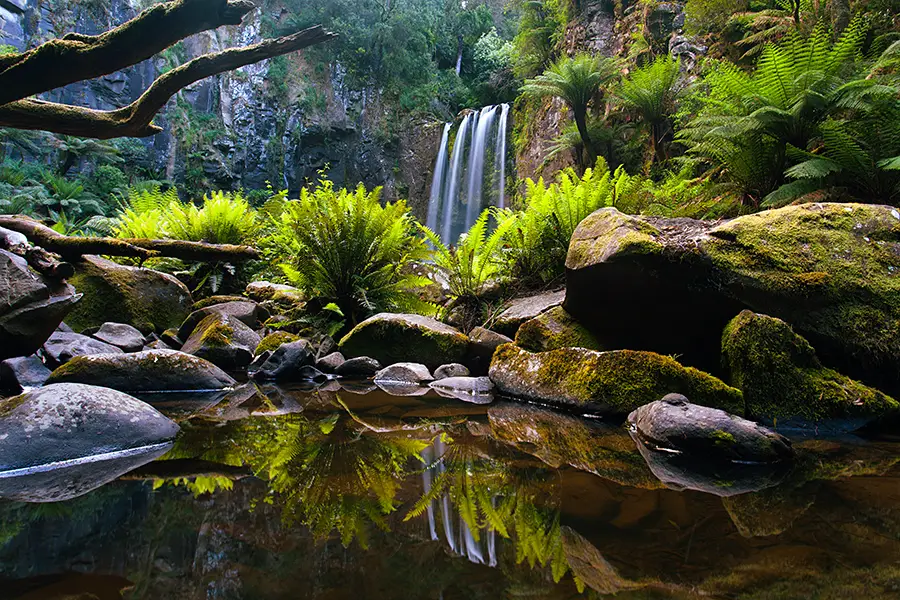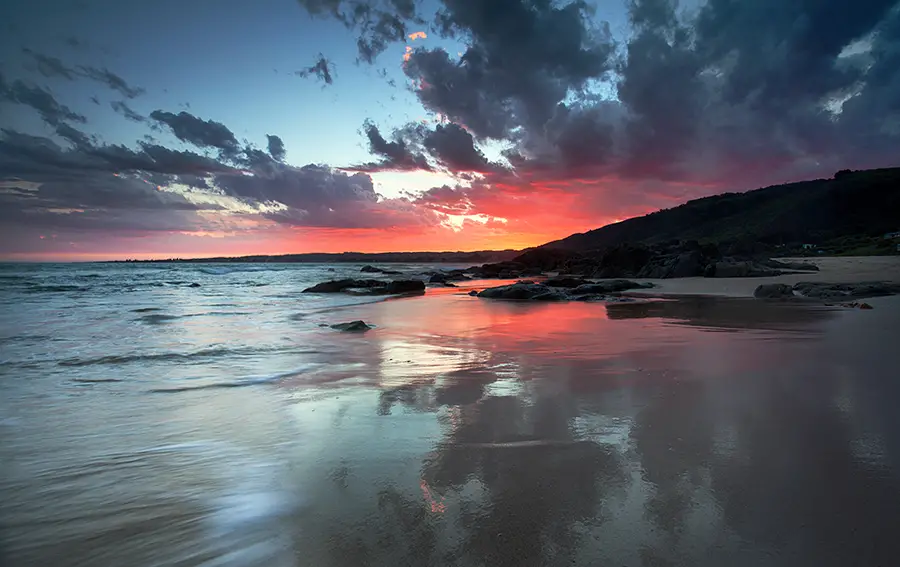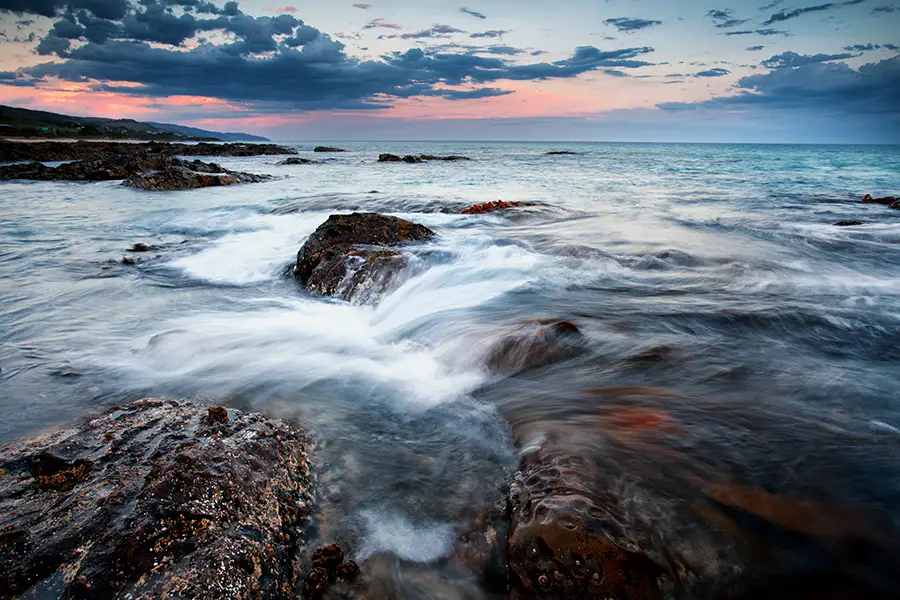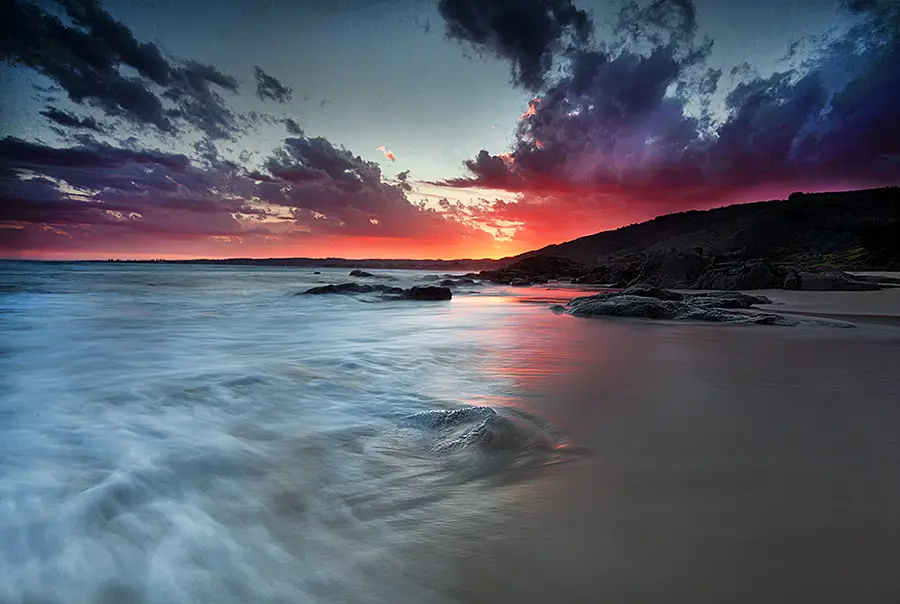 Thanks for taking the time to read this post and scroll through the images. I hope you enjoyed looking as much as I enjoyed taking them. Be sure to like my Facebook page to be subscribed to all my future photography posts.
– Alex