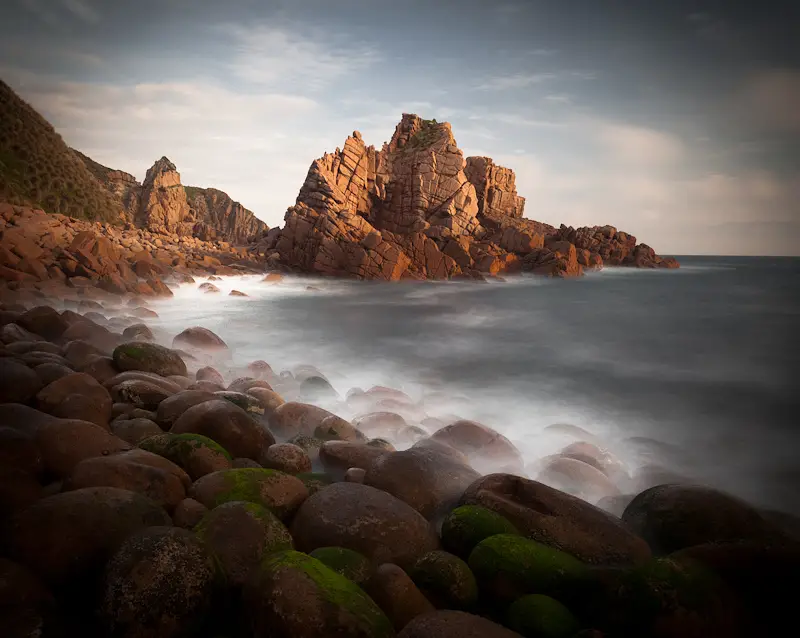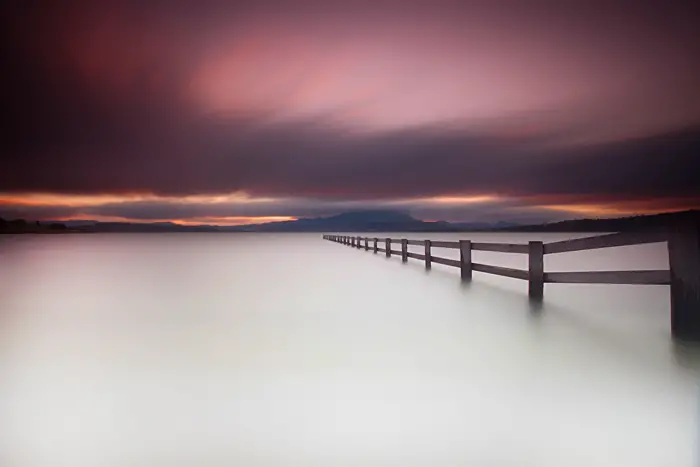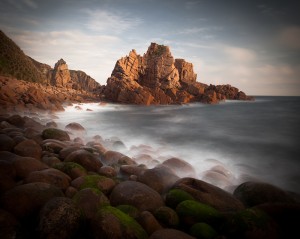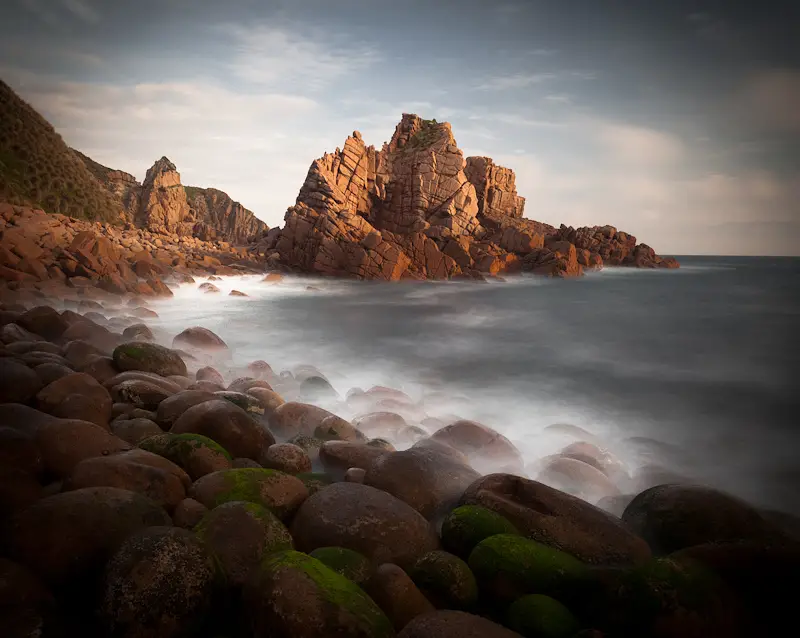 A common question I receive from people is about how long they should set the shutter speed when using strong neutral density filters such as the 10 stop B+W 110 filter or NiSi Long Exposure Kit.  It's a hard question to answer and I often point them to a chart (see end of post).
Rather than point you to a pdf file all the time I thought it would be more useful to point the information into a WordPress table to act as a quick reference for long exposure photography.
My Step by Step Process for Long Exposure Photography
I must be honest and tell you I've never used the chart and prefer to photograph a scene based on general feel for the scene. Over time you'll learn how different conditions will need certain settings. For example the early stages of a sunrise (when it's still dark) or the late stages of a sunset (when light is quickly fading) will require a significant exposure with the 10 stop attached. I'll generally shoot around the 10 minute mark at F9 with a 100ISO. But if shooting during the sunset when there is more light available I'll shoot more around F13 with a 2-5 minute exposure at 50ISO.  If on the other hand you're shooting day time long exposure photographs around noon, I'll crank the F stop to around 20-22, lower the ISO to 50 and shoot a test shot around the 1 minute mark and adjust accordingly. But to rehash these are my rules of thumb when shooting with the B+W 110 10 stop neutral density filter:
Early stage of a sunrise or late part of a sunset (when there is limited light available) – 10 minutes, F9~ with a 100-200 ISO (never any higher  due to a higher ISO increasing noise)
During sunset or sunrise when there is plenty of light available – 2-5 minutes, F13~ with a 50ISO
Day time light conditions (this can vary based on the scene being overcast or sunny) – 1~ minute, F20~ with a 50ISO
It's not the most calculated way of doing things by any means but it's a method that has worked well for me.  My best advice would be to play around in these scenes (early stages of a sunset, late stage of a sunset and day time) noting the settings for each scene and use these as a guide for when shooting scenes. It will mean less stuffing around when you arrive at a scene which is important when shooting a sunset and great light is disappearing quickly.
More Long Exposure Guides on this Blog
If you're starting out in long exposure photography you might want to have a read over my free guide that looks at taking super long exposures (even during the daytime) that includes a guide on long exposures with before and after photographs and some equipment I recommend.  Also my waterfall photography guide also explores long exposures with the effect which long exposures can have when photographing waterfalls.
If you still have any questions after reading these articles please feel free to email me and I'll be happy to help.
Free Neutral Density Exposure Chart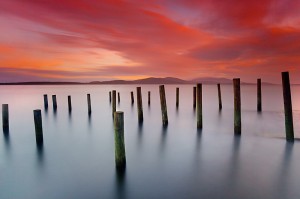 If you want a copy of this neutral density exposure chart to carry in your camera bag,  attached is a PDF form that helps calculate long exposures with different neutral density filters. This will make a nice addition to any camera bag especially if you're playing around with new filters.
| Bare Meter Reading = | 1/8000 | 1/4000 | 1/2000 | 1/1000 | 1/500 | 1/250 | 1/125 | 1/60 | 1/30 | 1/15 | 1/8 | 1/4 | 1/2 | 1s | 2s | 4s | 8s | 15s | 30s |
| --- | --- | --- | --- | --- | --- | --- | --- | --- | --- | --- | --- | --- | --- | --- | --- | --- | --- | --- | --- |
| ND2 (1) | 1/4000 | 1/2000 | 1/1000 | 1/500 | 1/250 | 1/125 | 1/60 | 1/30 | 1/15 | 1/8 | 1/4 | 1/2 | 1s | 2s | 4s | 8s | 15s | 30s | 1m |
| CPL (1 2/3)* | 1/2500 | 1/1250 | 1/640 | 1/320 | 1/160 | 1/80 | 1/40 | 1/20 | 1/10 | 1/5 | 2.5 | 1.3 | 1.6s | 3s | 6s | 13s | 25s | 50s | 1.66m |
| ND4 (2) | 1/2000 | 1/1000 | 1/500 | 1/250 | 1/125 | 1/60 | 1/30 | 1/15 | 1/8 | 1/4 | 1/2 | 1s | 2s | 4s | 8s | 15s | 30s | 1m | 2m |
| ND8 (3) | 1/1000 | 1/500 | 1/250 | 1/125 | 1/60 | 1/30 | 1/15 | 1/8 | 1/4 | 1/2 | 1s | 2s | 4s | 8s | 15s | 30s | 1m | 2m | 4m |
| 2X ND4 or ND2 + ND3 (4) | 1/500 | 1/250 | 1/125 | 1/60 | 1/30 | 1/15 | 1/8 | 1/4 | 1/2 | 1s | 2s | 4s | 8s | 15s | 30s | 1m | 2m | 4m | 8m |
| (5) | 1/250 | 1/125 | 1/60 | 1/30 | 1/15 | 1/8 | 1/4 | 1/2 | 1s | 2s | 4s | 8s | 15s | 30s | 1m | 2m | 4m | 8m | 16m |
| 2X ND8 or ND64 (6) | 1/125 | 1/60 | 1/30 | 1/15 | 1/8 | 1/4 | 1/2 | 1s | 2s | 4s | 8s | 15s | 30s | 1m | 2m | 4m | 8m | 16m | 32m |
| ND100 (6 2/3) | 1/80 | 1/40 | 1/20 | 1/10 | 1/5 | 2.5 | 1.3 | 1.6s | 3s | 6s | 13s | 25s | 50s | 1m 40s | 3m 20s | 6m 40s | 13m 20s | 26m 40s | 53m 20s |
| (7) | 1/60 | 1/30 | 1/15 | 1/8 | 1/4 | 1/2 | 1s | 2s | 4s | 8s | 15s | 30s | 1m | 2m | 4m | 8m | 16m | 32m | 64m |
| ND4 + ND64 (8) | 1/30 | 1/8 | 1/8 | 1/4 | 1/2 | 1s | 2s | 4s | 8s | 15s | 30s | 1m | 2m | 4m | 8m | 16m | 32m | 64m | 128m |
| ND400 (8 2/3) | 1/40 | 1/20 | 1/10 | 1/2.5 | 1/1.3 | 1.6s | 3s | 6s | 13s | 25s | 50s | 1m 40s | 3m 20s | 6m 40s | 13m 20s | 26m 40s | 53m 20s | 1 hr 47m | 3h 33m |
| (9) | 1/15 | 1/8 | 1/4 | 1/2 | 1s | 2s | 4s | 8s | 15s | 30s | 1m | 2m | 4m | 8m | 16m | 32m | 1h 4m | 2h 8m | 4h 16m |
| (10) | 1/8 | 1/4 | 1/2 | 1s | 2s | 4s | 8s | 15s | 30s | 1m | 2m | 4m | 8m | 16m | 32m | 1h 4m | 2h 8m | 4h 16m | 8h 32m |
| (11) | 1/4 | 1/2 | 1s | 2s | 4s | 8s | 15s | 30s | 1m | 2m | 4m | 8m | 16m | 32m | 1h 4m | 2h 8m | 4h 16m | 8h 32m | 17h 4m |
| 2X ND64 (12) | 1/2 | 1s | 2s | 4s | 8s | 15s | 30s | 1m | 2m | 4m | 8m | 16m | 32m | 1h 4m | 2h 8m | 4h 16m | 8h 32m | 17h 4m | 1d 10h 8m |
| ND10000 (13) | 1s | 2s | 4s | 8s | 15s | 30s | 1m | 2m | 4m | 8m | 16m | 32m | 1h 4m | 2h 8m | 4h 16m | 8h 32m | 17h 4m | 1d 10h 8m | 2d 20h 16m |
| (14) | 2s | 4s | 8s | 15s | 30s | 1m | 2m | 4m | 8m | 16m | 32m | 1h 4m | 2h 8m | 4h 16m | 8h 32m | 17h 4m | 1d 10h 8m | 2d 20h 16m | 5d 16h 32m |
| (15) | 4s | 8s | 15s | 30s | 1m | 2m | 4m | 8m | 16m | 32m | 1h 4m | 2h 8m | 4h 16m | 8h 32m | 17h 4m | 1d 10h 8m | 2d 20h 16m | 5d 16h 32m | 11d 9h 4m |
| (16) | 8s | 15s | 30s | 1m | 2m | 4m | 8m | 16m | 32m | 1h 4m | 2h 8m | 4h 16m | 8h 32m | 17h 4m | 1d 10h 8m | 2d 20h 16m | 5d 16h 32m | 11d 9h 4m | 22d 18h 8m |
| (17) | 15s | 30s | 1m | 2m | 4m | 8m | 16m | 32m | 1h 4m | 2h 8m | 4h 16m | 8h 32m | 17h 4m | 1d 10h 8m | 2d 20h 16m | 5d 16h 32m | 11d 9h 4m | 22d 18h 8m | 45d12h16m |
| (18) | 30s | 1m | 2m | 4m | 8m | 16m | 32m | 1h 4m | 2h 8m | 4h 16m | 8h 32m | 17h 4m | 1d 10h 8m | 2d 20h 16m | 5d 16h 32m | 11d 9h 4m | 22d 18h 8m | 45d12h16m | 91d 32m |
| (19) | 1m | 2m | 4m | 8m | 16m | 32m | 1h 4m | 2h 8m | 4h 16m | 8h 32m | 17h 4m | 1d 10h 8m | 2d 20h 16m | 5d 16h 32m | 11d 9h 4m | 22d 18h 8m | 45d12h16m | 91d 32m | 182d 1h 4m |
| ND1000000 (20) | 2m | 4m | 8m | 16m | 32m | 1h 4m | 2h 8m | 4h 16m | 8h 32m | 17h 4m | 1d 10h 8m | 2d 20h 16m | 5d 16h 32m | 11d 9h 4m | 22d 18h 8m | 45d12h16m | 91d 32m | 182d 1h 4m | 1 year |